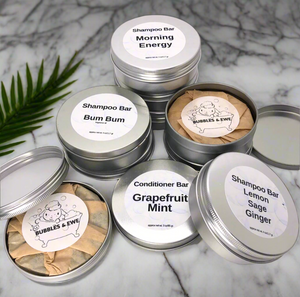 Sodium Laurel Sulfate Free
Sodium Coco Sulfate Free
Sodium Laureth Sulfate Free

Eco - Conscious 
To Use:  Rub directly onto hair, massage to create a lather, rinse, repeat if desired. 
Ingredients:  Sodium Cocoyl Isethionate, Sodium Laurly Sulfoacetate, Cocamidopropyl Betaine, Cocoa Butter, Sodium Lactate, Behentrimonium Methosulfate, Oat Protein, Fragrance, Panthenol, Germall Plus
These shampoo and conditioner bars last a long time.  I had them in test faze for a year to see what I used,  2 shampoo bars and I'm still on the same conditioner bar 1.5 years later.
Bum Bum. An alluring layers of pistachio and salted caramel with a warm base of sandlewood and vanilla.
Blue Agava. An uplifting and very fresh scent, lime, lemon, black current, a touch of floral lily of the valley, rose petals with base notes of oakmoss and white wood.
Citrus. A bright and fresh scent with notes of grapefruit, lemon, lime, cucumber, jasmine, pineapple, blackberries, and champagne.
Grapefruit and Greens. A refreshing blend of grapefruit, cotton, sandalwood, musk, and powder.
Grapefruit Mint. A refreshing and sophisticated summer scent of tangy grapefruit and fresh mint.
Hickory Suede. A velvety blend of vanilla ans suede, enriched with woody notes of hickory.
Natual.  The only scent is what it is made with no fragrance at all,
Lemon Ginger and Sage.  An uplifting aroma of lemongrass, earthy sage with ginger and geranium.
Pamelo and Melon. A sweet and inviting blend of melon, pineapple, ozone, violet, white musk and currants.
Sun Kissed Ginger. A refreshing balance of spicy ginger and sweet citrus.