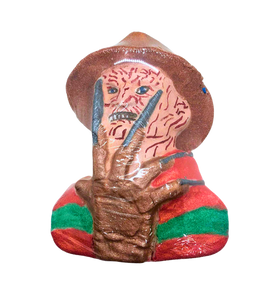 Watermelon scented.
To use, fill your bathtub with warm water. Place bath bomb in water and watch as your tub erupts with color! Lay back & relax while you enjoy the many aromatherapy benefits of your bomb. 
Every bomb is unique in it's own way as each one is hand painted & hand pressed. There are no two exactly alike, no matter how hard I try! Because of this, they will slightly vary in weight. Approx. 9 oz/260 g. Contain water based dye so your body, or the tub, won't be stained. Always use a clean bathtub.
If you have any reaction to the bath bomb, please get out of the water and rinse off immediately.
Warning - Bathtub could be slippery. Please be careful when exiting.
Ingredients: Baking Soda, Citric Acid, Corn Starch, Buttermilk Powder, Cream of Tartar, SLSa, Sunflower Oil, Polysorbate 80, Fragrance, Mica